How To Design a Welcoming Work Environment
March 1, 2023
2023-03-02 9:56
How To Design a Welcoming Work Environment
How To Design a Welcoming Work Environment
Creating a warm, welcoming work environment for your team has tons of benefits from productivity to morale and more. Makes sense, right? People are going to be happier, more collaborative, and more engaged with their work if they feel comfortable and welcomed in their workspace. Some of the most popular trends in commercial interior design echo this sentiment. Wondering what you could do to your space to give it a more warm and relaxing vibe? Here are some of Yellowstone's favorite design trends for 2023.
Inviting Furniture
The days of square corners are gone! Furniture design is now all about curves, and for good reason – research shows that study participants exposed to soft, curved furniture with an organic feel experienced higher amounts of relaxation, peace, and calm, compared with straight-line aesthetics. Plus, a square table has four sides, which in the minds of people can define the number of seats available – whereas a round table opens the door to more possibilities. Offices can feel more inclusive, flexible, and inviting with intentional furniture choices!
Biophilic Integration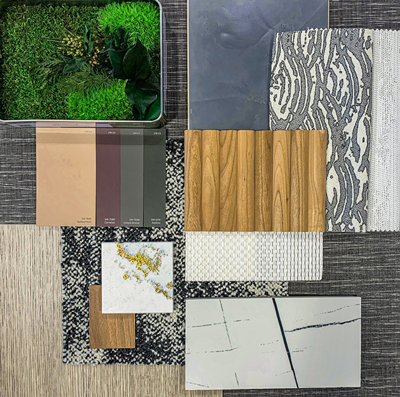 Biophilic Integration is a fancy term for introducing natural elements into interior design, and it's not as difficult as it may sound! Using more plants in your office, or highlighting wood and stone materials, are great ways to integrate this trend. BONUS – biophilic design materials are often more sustainable than traditional commercial interior components, and using these is one fantastic way to focus on sustainability during your redesign or buildout. From energy-efficient lighting to recycled components, we always prioritize options that reduce single-use materials and overall waste.
Return to Natural Colors
Moreso than ever, 2023 will see the colors of nature brought to the forefront of commercial interior design. Minimalist designs aren't going anywhere, but if you're looking for a warm and inviting workplace, consider earth-inspired tones that help your team feel cozy in their spaces.
Statement Lighting
Don't underestimate the power of lighting to define spaces and give your workplace a natural, healthy vibe! LED lighting tucked behind railings, under countertops, or as part of large accent features over seating areas can have a huge influence on the cozy feeling of your office. The days of fluorescent tube lighting in drop ceilings are gone! Embracing some simple design solutions with lighting can be an economic and high-impact tactic for making your workspace more inviting.
Yellowstone's Design team has vast experience creating warm, welcoming commercial spaces – from offices to healthcare facilities and retail storefronts to hospitality environments. Interested in how the ideas above could be utilized in your workplace? Get in touch with us to chat! We'd love to learn more about your goals.