The State of Interior Design
July 6, 2023
2023-07-06 16:16
The State of Interior Design
The State of Interior Design
Looking toward 2024, our interior designers here at Yellowstone are anticipating ongoing shifts in the way we work, live, and have fun – all of which impact the design work that we do. Higher living costs, a potentially recessionary market, and the impacts of climate change are all playing a part in the experience we have at work, at home, and everywhere else that we go in our day-to-day lives. We're living, and working, more intentionally than ever before!
The growing prominence of influencers on social media, and the changing landscape of the economy, has given rise to the revival of many kinds of home-based hobbies related to gardening, crafts, and wellness. Brands are even starting to mirror this in their product lines, as well as offering goods and services that are more intentionally planet-friendly and have longer lifecycles.
In the workplace, many organizations have embraced the hybrid schedule for the long haul. There will certainly be continual reconfigurations and renovations in our workplaces to make our environments more conducive to employee morale and productivity – and the current trends seem to revolve around intentional, function-specific zones. This keeps the overall office environment open, while promoting separate areas by their intended uses using visual boundaries that don't clutter up the overall space. We love this, for its flexibility and functionality, allowing teams to fully utilize their spaces for a variety of purposes, while also encouraging interaction and communication (and, maintaining some privacy as well!). At Yellowstone, our projects have utilized drapery, plants, and screens to achieve the flex environment aesthetic.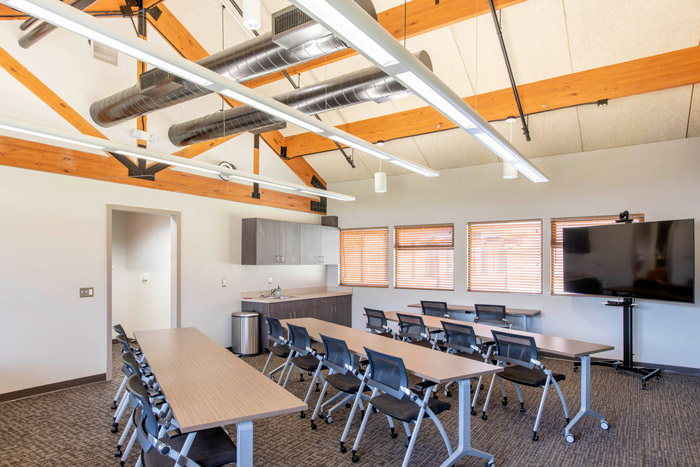 We also love the use of natural light within our spaces, especially because it's shown to have significant impacts on the overall well-being of teams that use the spaces. When redefining a space, or creating a new one, we're always advocates for incorporating natural light as a top priority. We recently completed a renovation for an Oxford Companies tenant at beautiful Forest Cove, fully utilizing natural light and views of the scenic outdoors in their training rooms. Forest Cove also happens to have stunningly beautiful and unique architecture which added to the design's impact.
What kinds of trends are you seeing in your workplace when it comes to the environment, space planning, lighting, and hybrid vs. in-person work? We'd love to hear from you!